Often you can not figure out whether you love a person or you are just good friends.
And you go to search engines to find the answer to your queries and you search like what is the love and what is the friendship or how to differentiate between love and friendship.
Also, some of the people start to feel nothing but they are thinking about it and falling down with no proofs for they are in love or in deep friendship.
For all of them and you we are going to give answers to your questions like:
How to distinguish friendship from love?
What is the similarity and difference?
Can we have them separately?
Let's try to figure this out in a more cleaner way.
Love and friendship, what in common?
In fact, you would not ask this question, if you did not feel something unusual or strange in your relationship with a friend. The truth is that there is no long-term friendship between a guy and a girl. Sooner or later, one of you, or even both, will think about what he (she) actually feels.
Love and friendship are similar to each other, but in fact, they are also components of each other. True friends love each other, although they do not show romantic feelings.
Their love is based on affection and mutual respect. And lovers can be friends for each other. This is even an ideal option, when so. We can say that friendship includes two aspects: spiritual and spiritual intimacy (emotions and beliefs), and love includes aspects of friendship and physical attraction.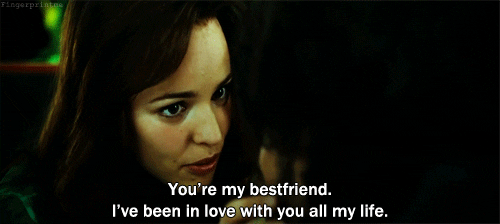 Not all friends decide to cross the threshold of friendship and become a couple. Such a decision can depend on either one of them or both. But most often the mutual decision does lead to love.
Now let's try to understand the differences.
What is the difference?
Do you check your feelings, or your friend's feelings, to determine that one of you perceives friendship not only as friendship, for some obvious signs?
The reaction to the friend's sympathy:
If you are friendly, you will be happy with your friend's feelings and will be happy to get acquainted with the object of his sympathy. You will help him in every way in developing these feelings because you want him to be happy.
If you are in love with your friend, you will be given an inner feeling of jealousy.
Mentally, you already represented him next to him, why did he suddenly meet someone better, and did not pay attention to you? Jealousy will manifest itself in the fact that you will not like the choice of your friend.
Behavior in the presence of a friend:
If you are friendly, you feel completely at ease in the presence of a friend, in what state or form you would not be (home clothes, not the freshest kind, temperature, terrible cold, anything).
When you are in love, you try to look as good as possible before your friend. You think through your appearance and worry about whether you like it. You begin to be embarrassed in his presence and his compliments now cause unusual feelings in you.
Personal space and freedom:
If you are friendly, you feel free to not always spend time with your friend. And when he is not with you, you are not bothered by the thoughts of how he spends his time. You are individual persons, each of whom chooses how to live, although there are some things that unite you and for which you value each other.
A few days without communicating with a friend will not knock you out of feelings and not let you fall asleep at night.
If you fall in love with your friend, your thoughts are constantly occupied by him. You are interested in the way he spends his time, and you want to be a part of this time as often as possible.
Emotions:
When you are friends, your friendship unites a feeling of ease, fun, spiritual intimacy. You are just well near and there is no burst of emotions and no drama. Only positive emotions and a sea of laughter, or, conversely, calm serious talk about life.
When you fall in love, new emotions are added to this palette, possibly even quarrels. In fact, this is not a sign of mature love, but just love, which has not yet found its expression, but is trying to hide behind friendship. When you have to hide your love, you can become too sensitive and sometimes demanding or even irritable. And you just want to have these feelings turned out to be mutual.
Habits and behavior of your friend:
If you are friends, you do not condemn a friend for some habits and do not try to change it. Not because you do not care, but because it was with such a friend you made friends. You accept it as it is, its choice does not affect your life in any way. Although of course, in important matters, you will advise your friend the best, you will not impose your opinion.
If you are in love, you are very worried about your friend and try to protect him from everything. Perhaps you are trying to correct some of his habits or qualities since you know that they are hurting him. Lovers (immature love) often try to change in their half what they might not like.
What to do?
If you are convinced that the feelings of each of you are exceptionally friendly, you should not start talking about it, everything is already in place!
If you notice that you are in love, think carefully about your feelings and about whether it is worth discovering them. You can never be ordinary friends after one of you has fallen in love. In general, and now it is not friendship in its pure form.
Think about whether you are mature enough emotionally to start a real relationship? If so, try talking about it with a friend. But for starters, it's still good to test your feelings with time, and also monitor your friend's behavior, is there no reciprocity in it?
Be careful and do not believe all your hopes for love, not to be disappointed when you do not get an answer. Life goes on anyway.
Useful advice!
Watch yourself and listen to your feelings and heart.
Most relationships begin with a good friendship between two people.
Real friends, like real love, is hard to find, cherish them.
To become a true companion in life, to begin with, you need to learn how to be a good and faithful friend.
It is possible that a real friendship with time will grow into true love.
There were questions about how to distinguish friendship from love, write in the comments. Also, we will be glad to hear your stories, situations, advice, comments.
If you find it difficult to manage yourself, ask questions and together we will try to find answers.